Photo Gallery
World Development Foundation builds and installs professional commercial FM and TV studios, Electronic Media Production Centres (EMPC), Media Centres, Broadcast Studios etc.This includes acoustic and interior work. Here are the few photos of the work undertaken.
It recently implemented a Agriculture Knowledge Dissemination System (ANDS) in Bihar which involved establishing an EMPC, developing an archive of agricultural practices and connecting the focal point with five remote locations through high speed video conferencing system for farmers training and education. A few snaps are given below.
TV Studio Bihar Agriculture University, Bhagalpur
EMPC BAU, Sabour, Bhagalpur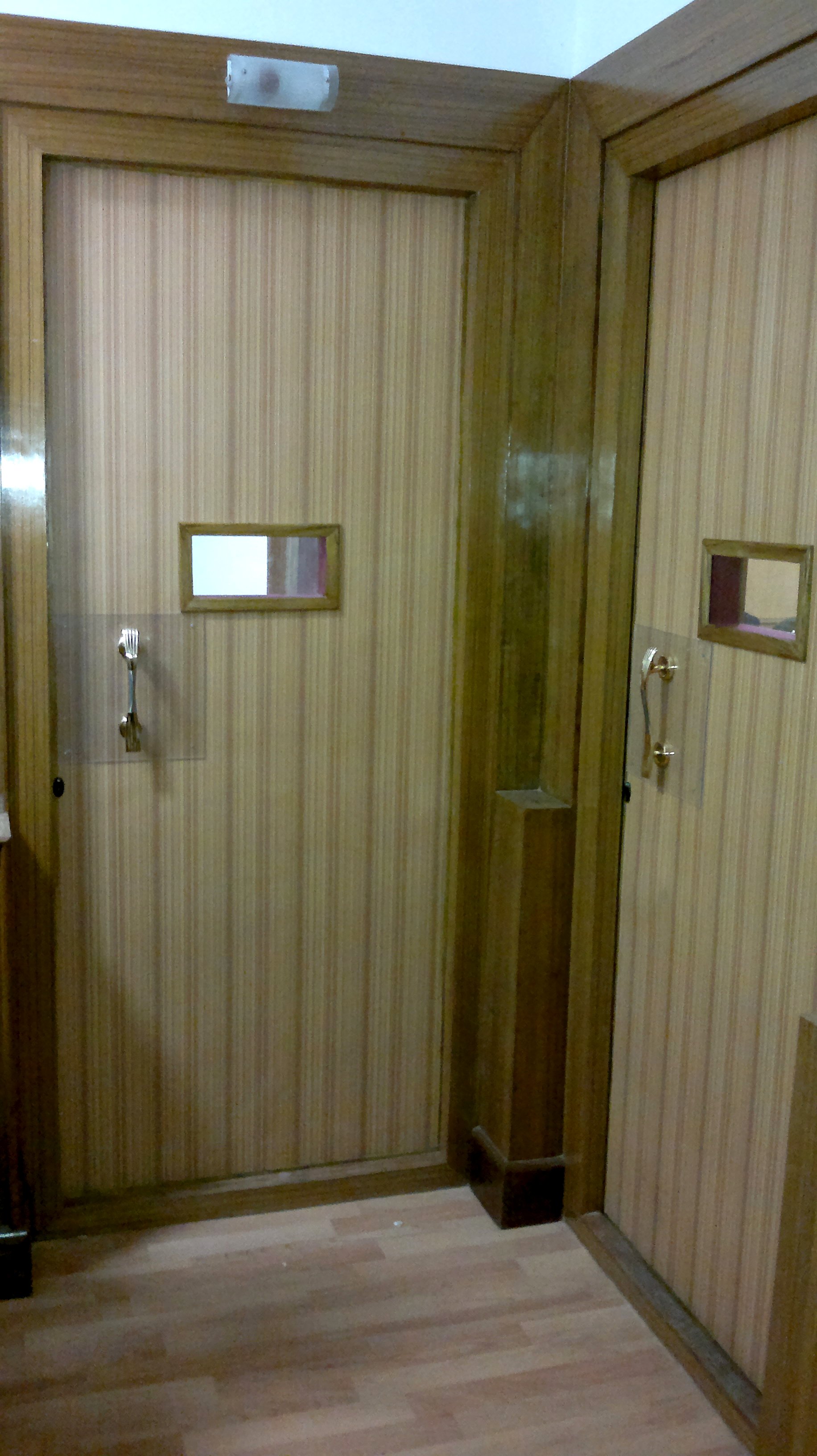 Studio & data center entry door BAU, Sabour, Bhagalpur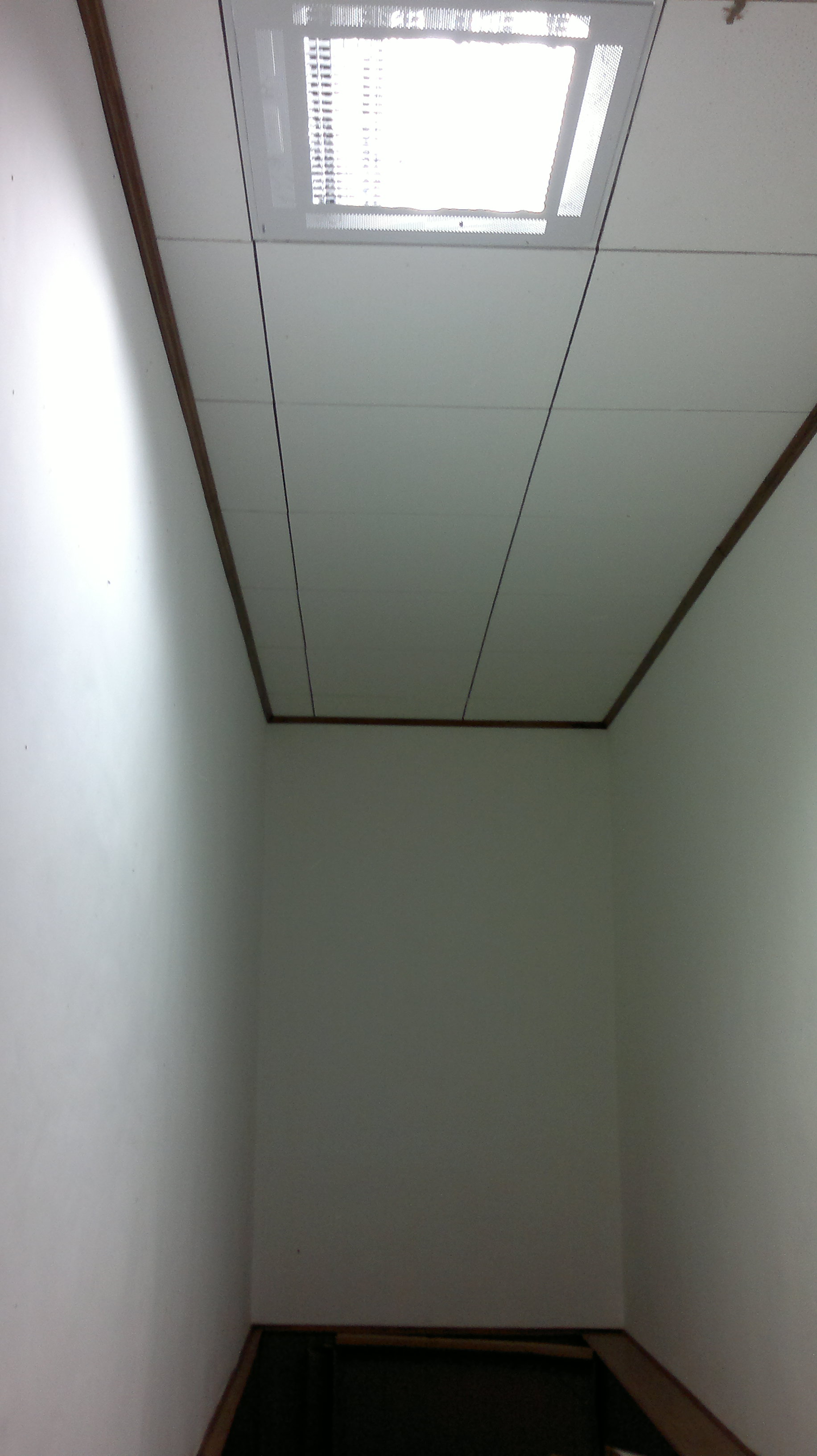 Sound lock, BAU, Sabour, Bhagalpur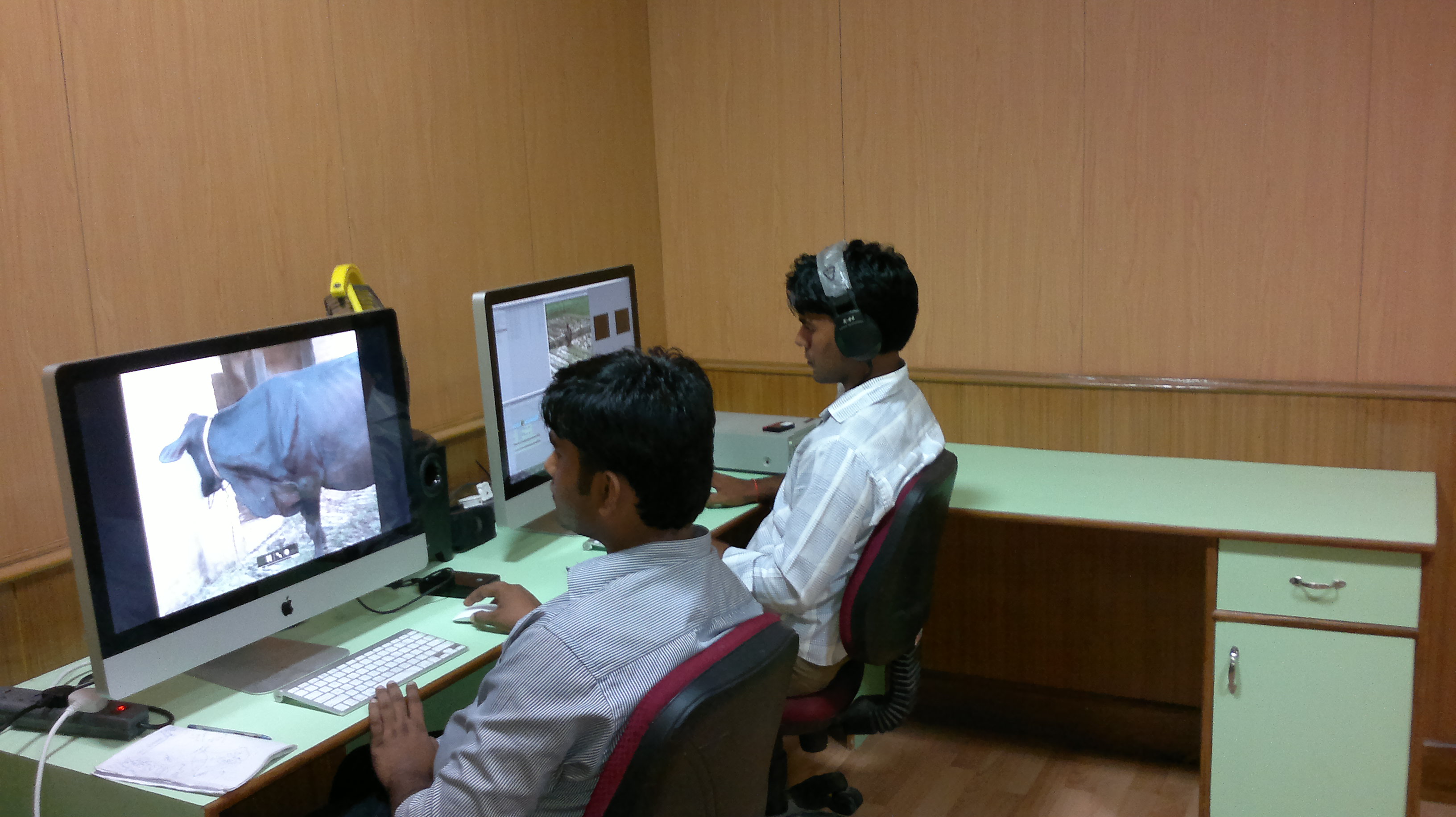 Editing room with table, BAU, Sabour, Bhagalpur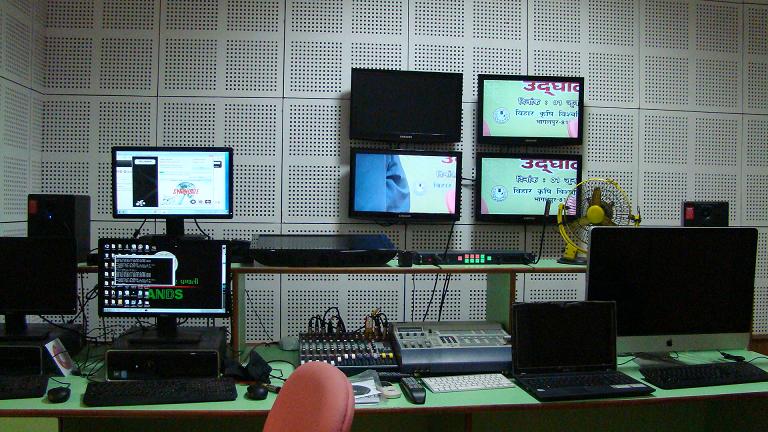 PCR, BAU, Sabour, Bhagalpur
Inauguration, BAU, Sabour, Bhagalpur by Shri Nitish Kumar Chief Minister Bihar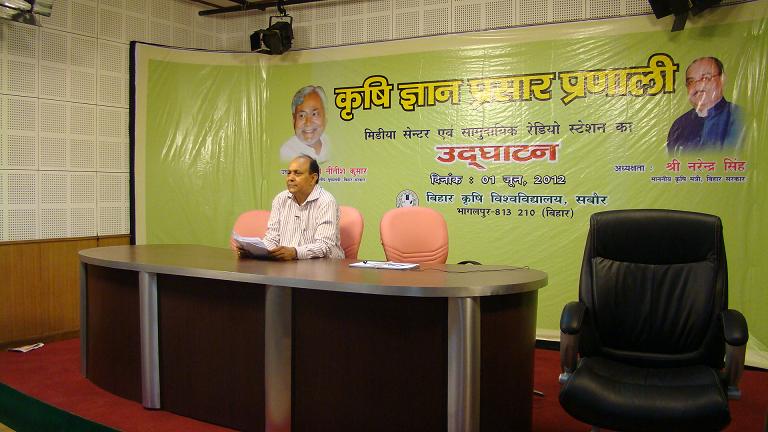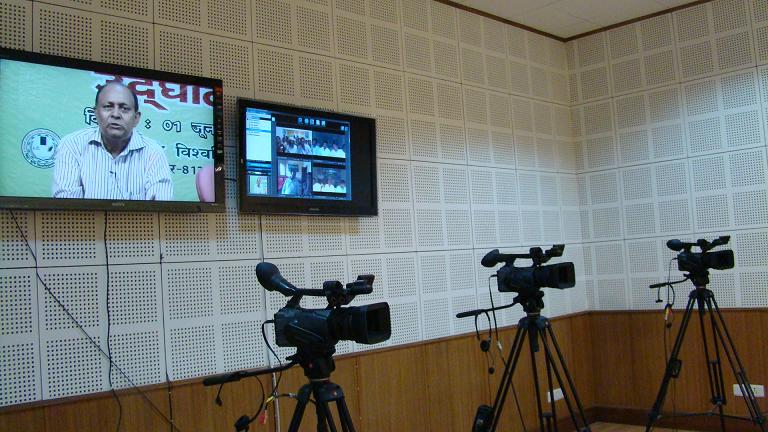 Video conferencing, BAU, Sabour, Bhagalpur
Commercial FM Studios in India
South FM Studios Gangtok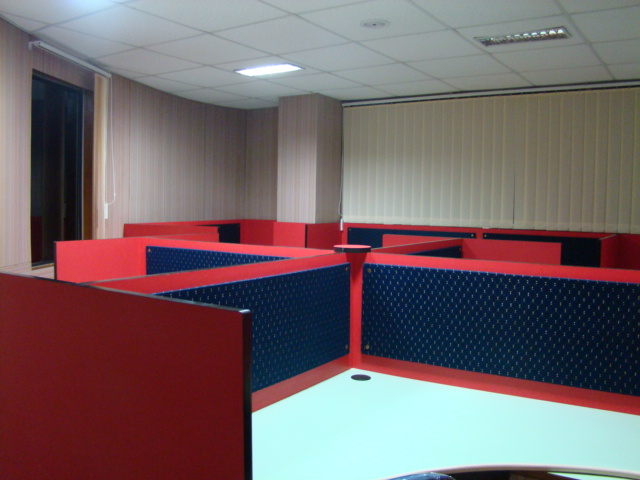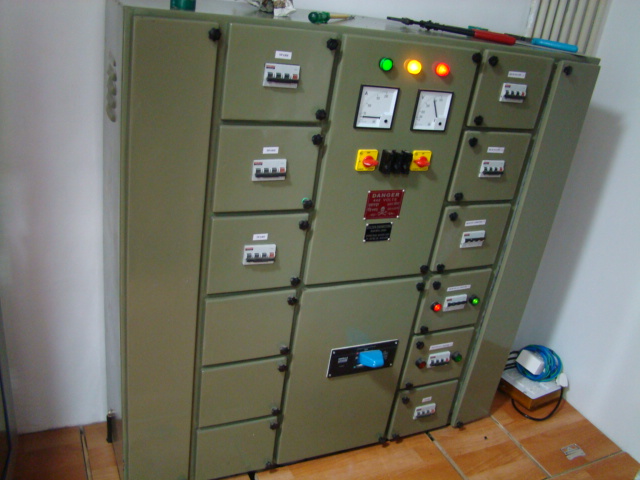 From Top, Production Studio, Workstation room, Another studio, LT panel Room, Entrance to studios, and Sound Lock
South FM Studios Siliguri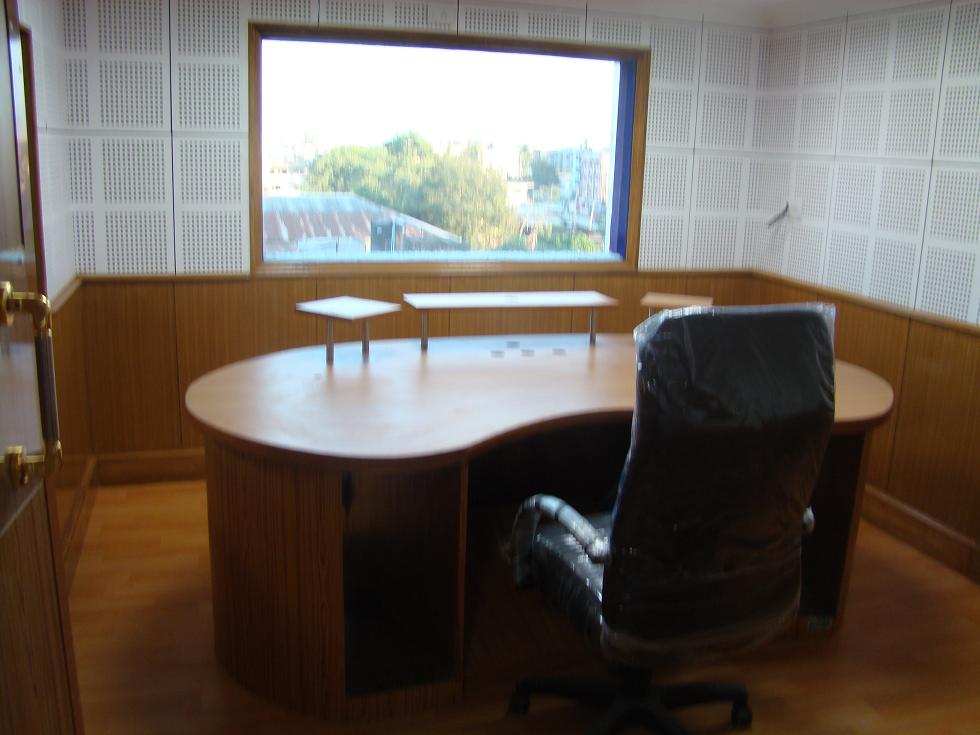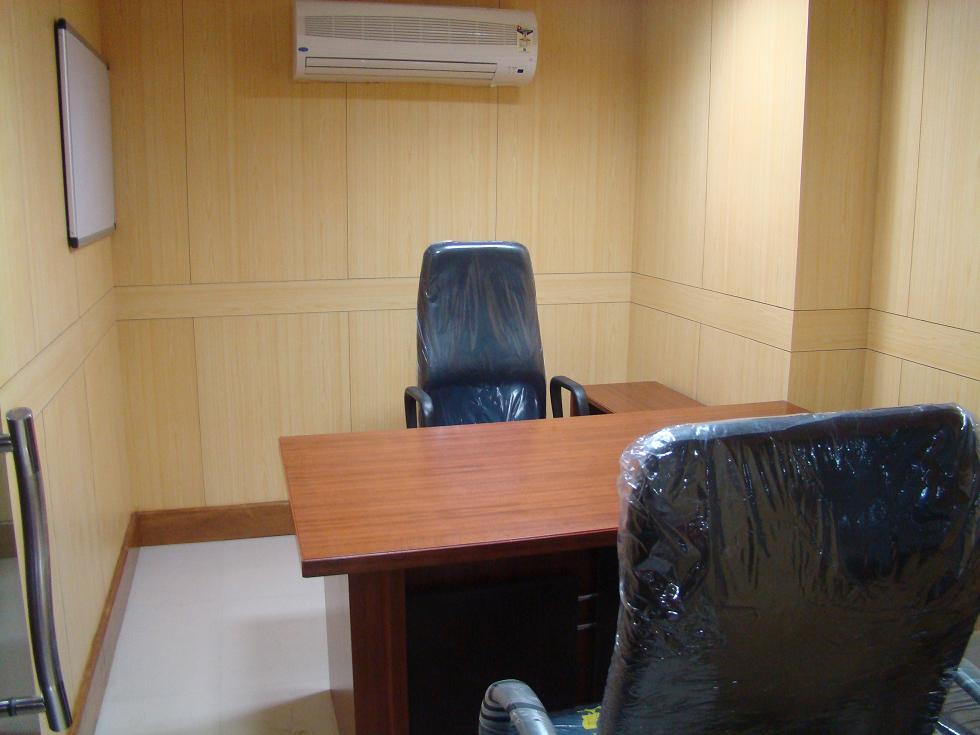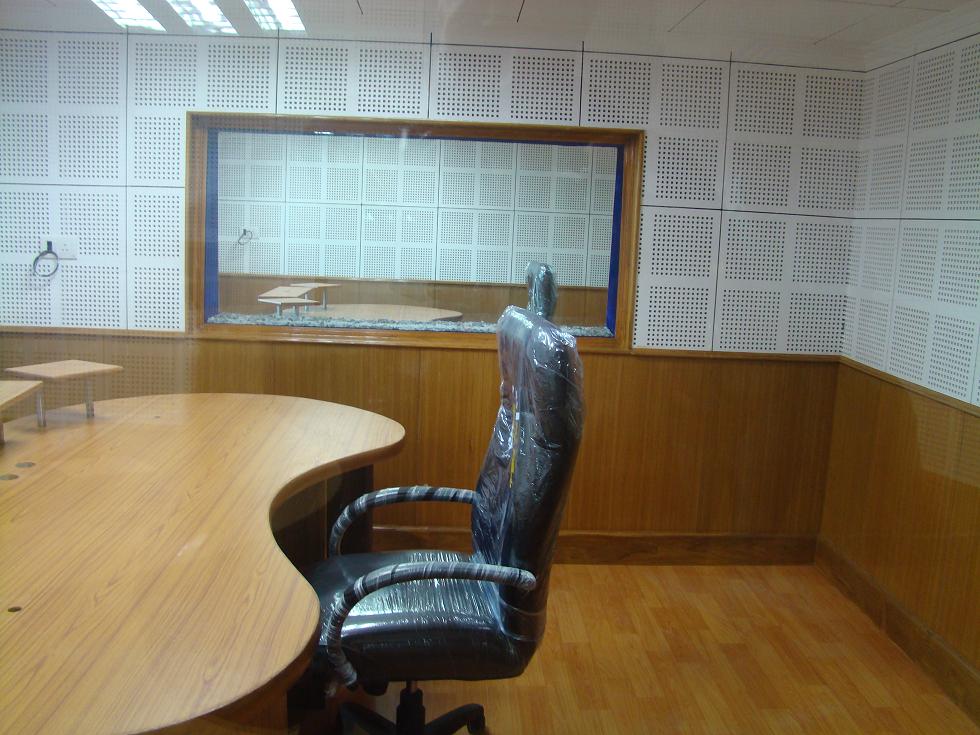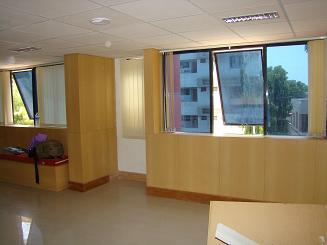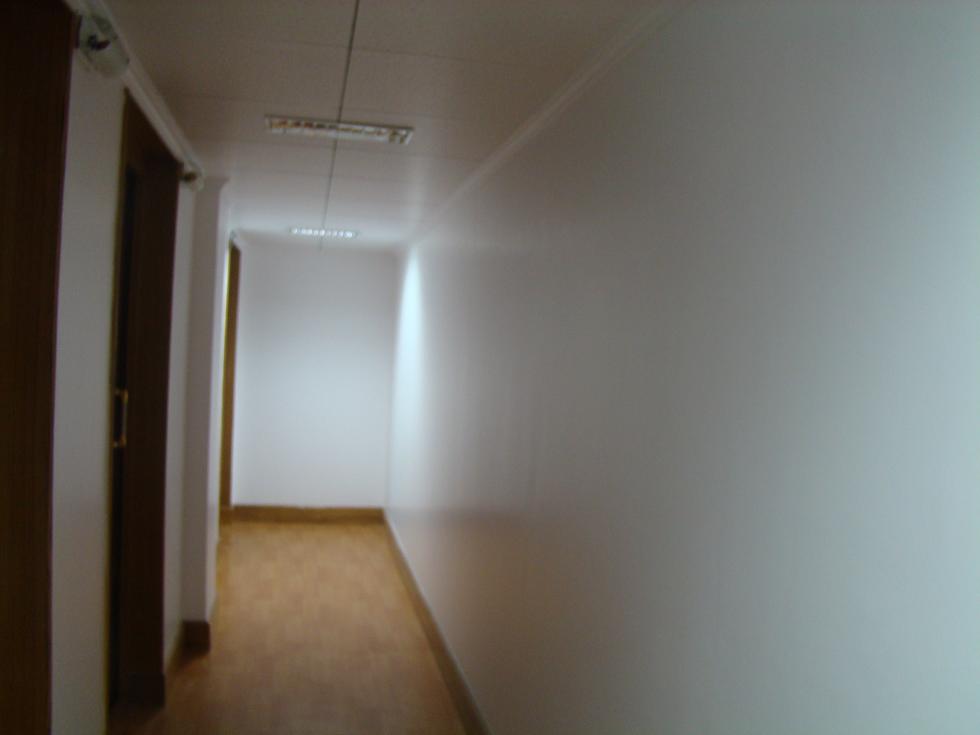 From Top, Reception, Production Studio, Station Head room, another studio, office and sound lock
South FM Studios Ahmedabad & Rajkot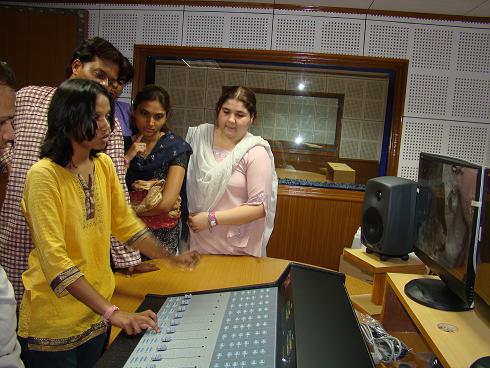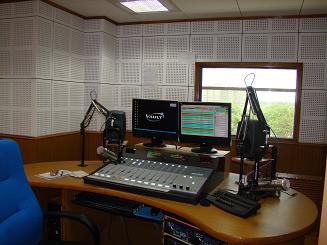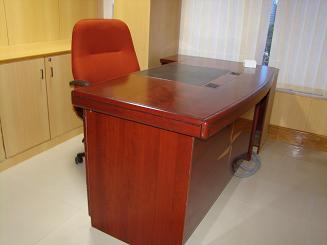 From Top, Production Studio Rajkot, roduction Studio Ahmedabad and Station Head room
Deployment of five Community Radio Stations funded by Media Lab Asia, Ministry of Communication & IT, GOI
World Development Foundation (WDF) and Media Lab Asia (MLA) joined hand through a Memorandum of Association to harness the potential of Community Radio for enriching the life of poor people. Under this scheme, WDF established five community radio stations in five Agricultural Universities, namely Narendra Deva University of Agriculture & Technology, Faizabad, U.P., Tamil Nadu Agricultural university Coimbtore, Birsa Agricultural University, Ranchi, Indira Gandhi Agricultural University, Krishak Nagar - 492006, Raipur, Chaudhary Charan Singh Krishi Vishwavidyalaya, Hissar, Haryana. Few photos of CRSs are given below:
Birsa Agricultural University, Ranchi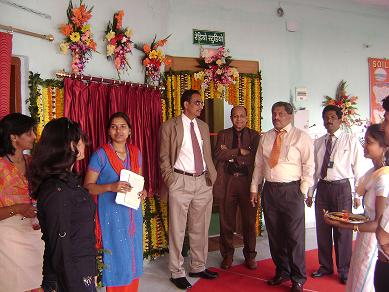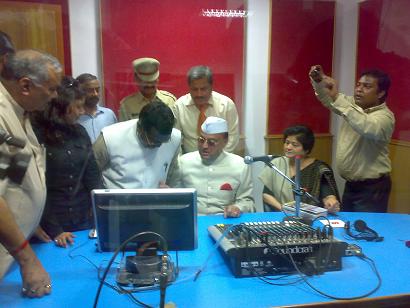 Inauguration of CRS at Birsa Agricultural University, Ranchi by HE Governor, Jharkhand
Tamil Nadu Agricultural University, Coimbatore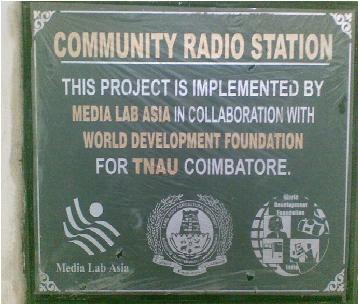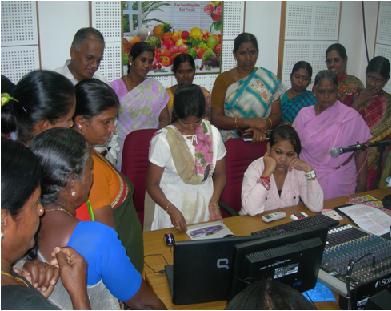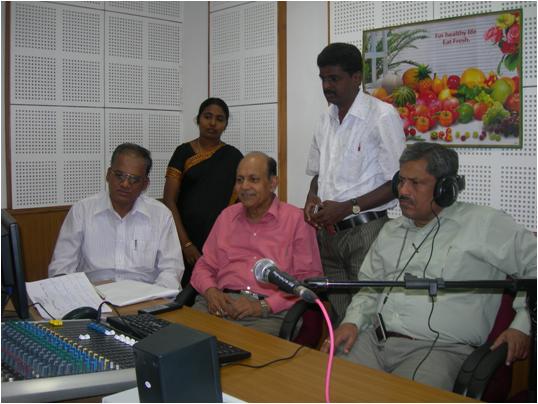 Agri-tech portal, community e-radio launched at TNAU by Deputy Chief Minister M.K. Stalin
October 28, 2009
The community e-radio station of the university had been sanctioned by the Union Ministry of Information and Broadcasting and the World Development Foundation. The objective was to share local agricultural information among the people in the local language. Union Minister of State for Health S. Gandhiselvan, State Highways Minister M.P. Saminathan, Khadi Minister K. Ramachandran, Agriculture Commissioner S. Kosalaraman, Agriculture Marketing Commissioner Atul Anand, Coimbatore Mayor R. Venkatachalam and Corporation Commissioner Anshul Mishra were present at the inaugural event.
Inspection and Inauguration of CRS at Tamilnadu Agriculture University Coimbatore
Narendra Dev Agriculture University Faizabad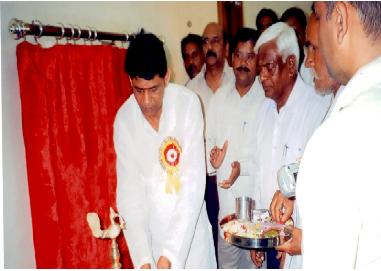 Inauguration of CRS at Narendra Dev Agriculture University Faizabad by Dy. Minister of Agriculture
Indira Gandhi Krishi Vishwavidyalaya, Raipur, Chhatisgarh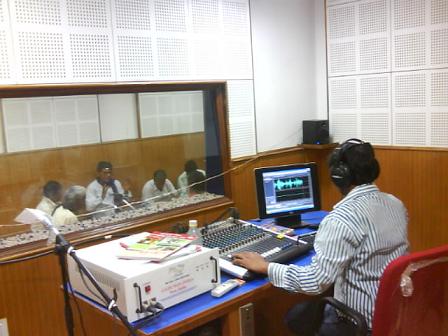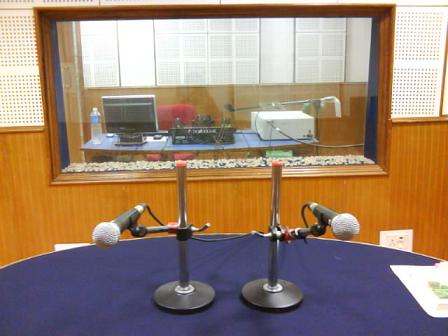 Inauguration of CRS at ndira Gandhi Krishi Vishwavidyalaya, Raipur, Chhatisgarh by Dr. Raman Singh, Chief Minister
Chaudhary Charan Singh Agriculture University, Hissar, Haryana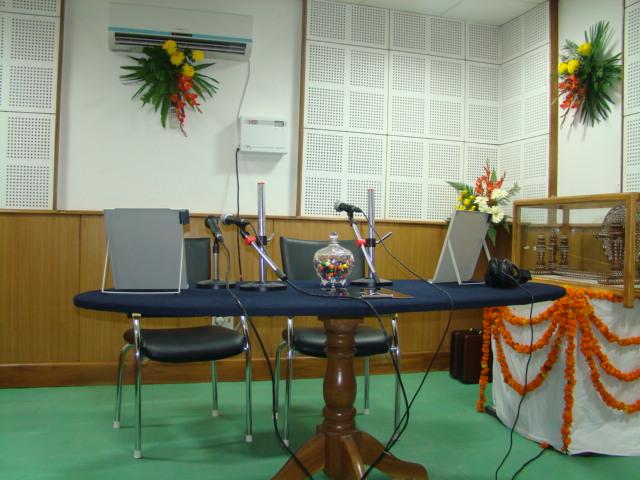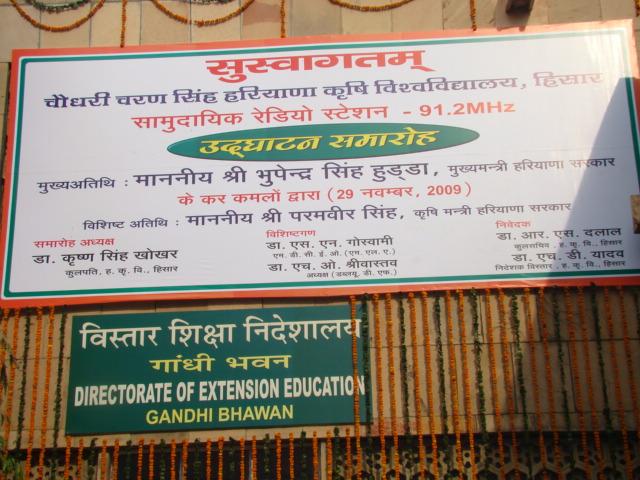 Inauguration of CRS at Hisar Agriculture University Haryana
Few other Community Radio Stations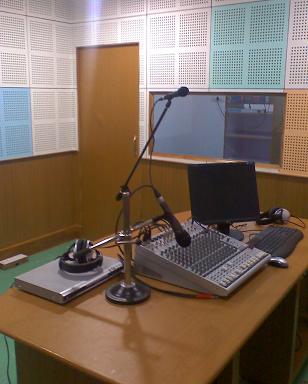 Community Radio Station at Inter College, Diggi, Jaipur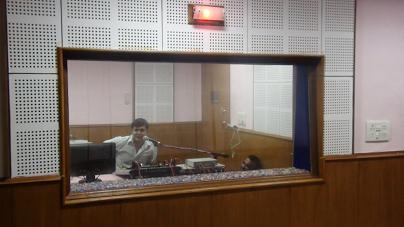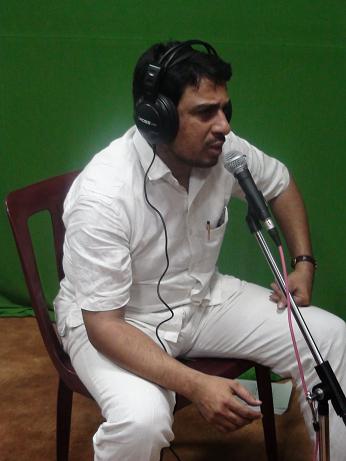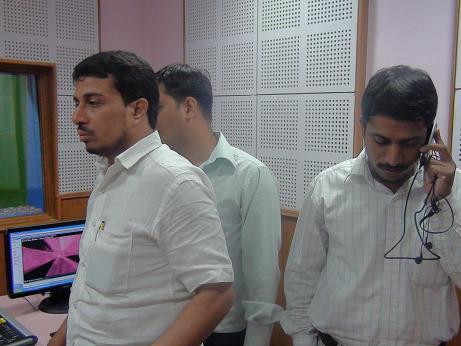 Community Radio Station at Abid Ali Khan Educational Trust, Hyderabad
Training and Capacity Building
WDF Team imparting training at Community Radio Station Tamil Nadu Agriculture University Coimbatore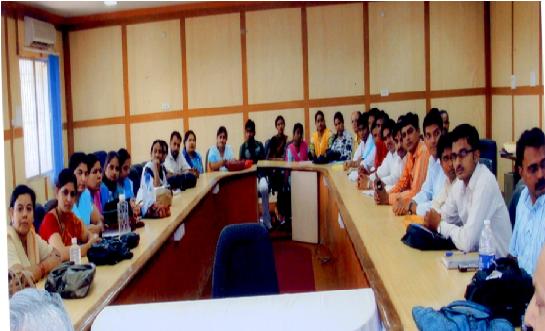 WDF Team imparting training at Community Radio Station Indira Gandhi Krishi Vishwavidyalaya, Raipur
WDF Team imparting training at Community Radio Station Narendra Dev Agriculture University Faizabad, UP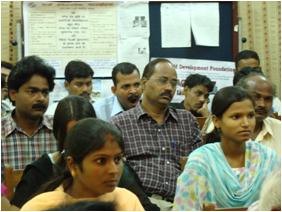 WDF Team imparting Radio Jockey course to the participants from all over UP at Narendra Dev Agriculture University Faizabad, UP
WDF Team imparting Radio Jockey course to the participants from all over Haryana at CCS Krishi Vishwavidyalaya, Hissar
WDF Team imparting Radio Jockey course to the participants from all over Chattisgarh at Birsa Agriculture University, Ranchi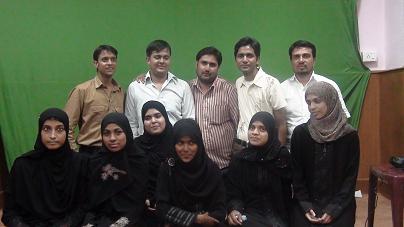 WDF Team imparting Community Radio Station Management training at Abid Ali Educational Trust at Hyderabad
Content Development by WDF Team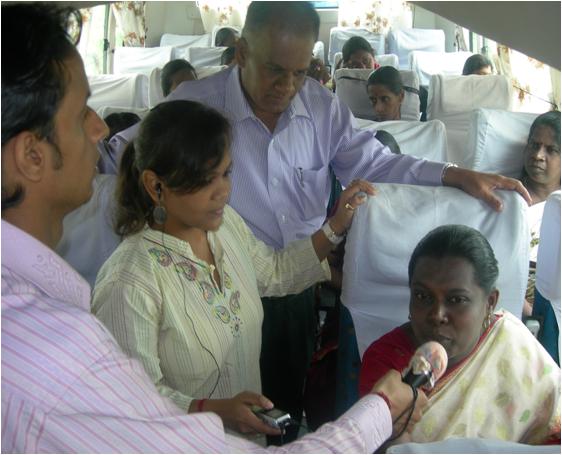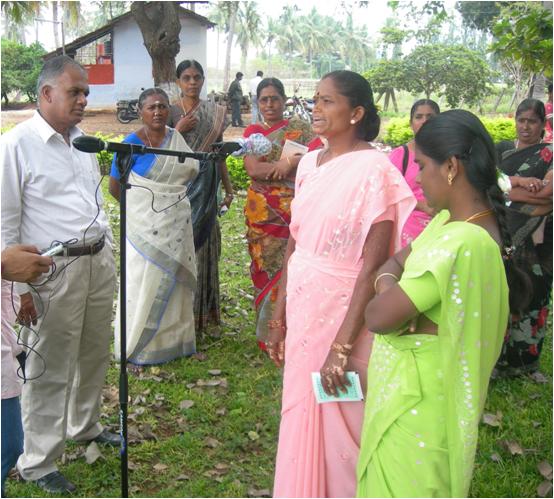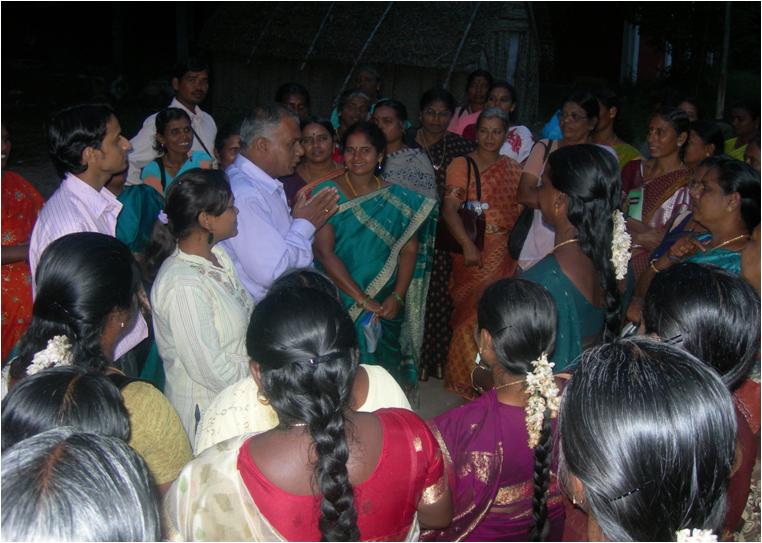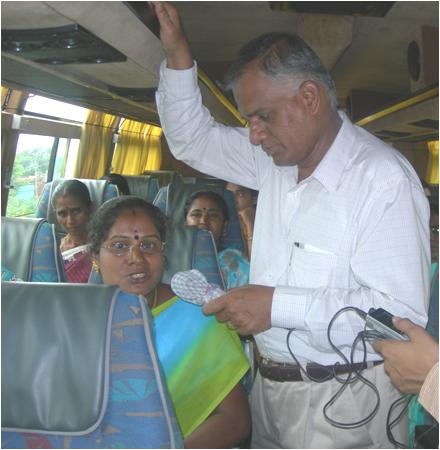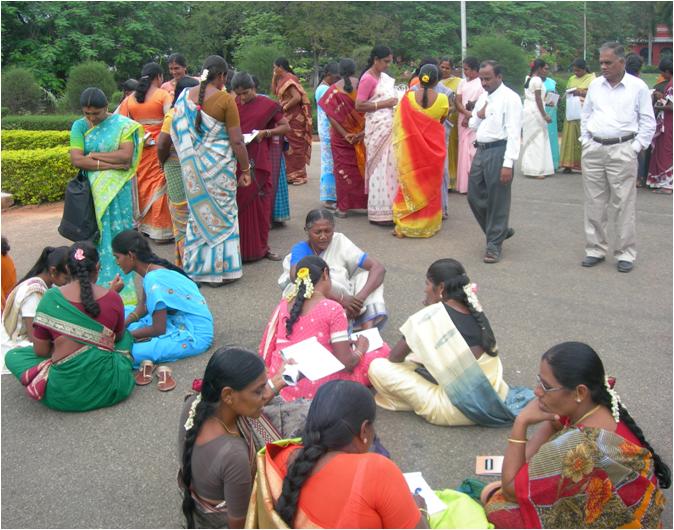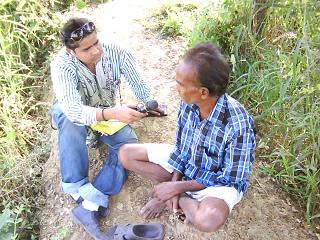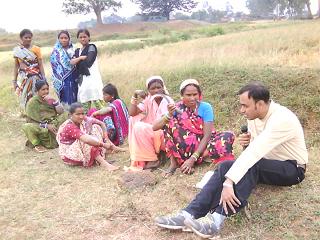 WDF Team visits the site and produces content in the field
Miscllaneous Photos
Dr. Srivastava at special assignment in Kargil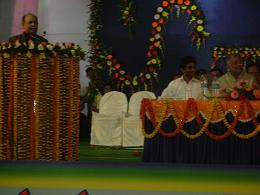 Dr. Srivastava addressing at Kisan Mela ay BAU Ranchi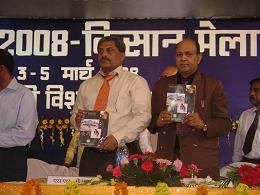 Sh. S. N. Goswami, MD & CEO, Media Lab Asia, MCIT, GOI and Dr. H. O. Srivastava, President, WDF at Kisan Mela at BAU Ranchi