About World Development Foundation
World Development Foundation (WDF), an Indian Organisation, is a media consulting and turn key solution providing company with expertese in the field of television, film, radio, new media, and audio video production. The company's focus areas include new launches and revamping of TV channels, FM radio Stations, digital and print businesses; production and distribution of video and audio for education and entertainment; and media & knowledge process outsourcing services. Our client geographies span across all over India, Nepal, Africa and Asia.
Download WDF Brochure
What we offer
World Development Foundation is one stop solution for all your media related requirements. Please see the video below.
Know about World Development Foundation, New Delhi
Watch above video to know about activity of World Development Foundation and the life story of its President as mentioned by Dr. H. O. Srivastava, President during interview by All India Radio, Udaipur on his life and work.
World Development Foundation commissioned seven community radio stations in Ethiopia each with 700 Watt Transmitters of Federal Republic of Ethopia, Ministry of Communication and IT. See details. The e-news from Embassy of India in Ethiopia is reproduced below: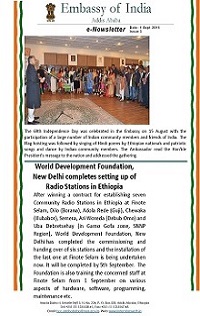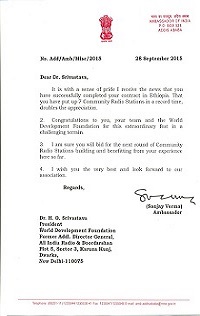 Pl. click to enlarge the images.